Educated children will constitute the backbone of Ukraine as a modern European democracy. Every day, thousands of teachers do their utmost to lift the war generation.
Teachers and other educators constitute a second front nowadays. They shelter displaced people, coordinate volunteer work, conduct lessons for students in Ukraine and abroad. At the same time, they feel the need to learn, to communicate with their peers, to improve professionally.

Khrystyna Chushak
Head Programme Coordinator in Ukraine
Undeterred by the war launched on Ukraine by the Russian Federation on February 24, EWC quickly adapted to its realities, building on our existing initiatives and experience. We persisted in capacity building efforts for Ukrainian educators, who now required our support on a whole different level.
Amidst the shock of warfare and shelling, Ukrainians continue to study successfully, at times straight from bomb shelters. I have never felt this emotional over the dry statistics of the platform!

Ivan Prymachenko, co-founder of the Prometheus learning platform
Widespread interest in online courses
Ukraine's educators showed tremendous dedication to continuing their professional development in spite of the danger and the difficulties. Over 30 000 people enrolled an EWC series of Massive Online Learning Courses after the invasion.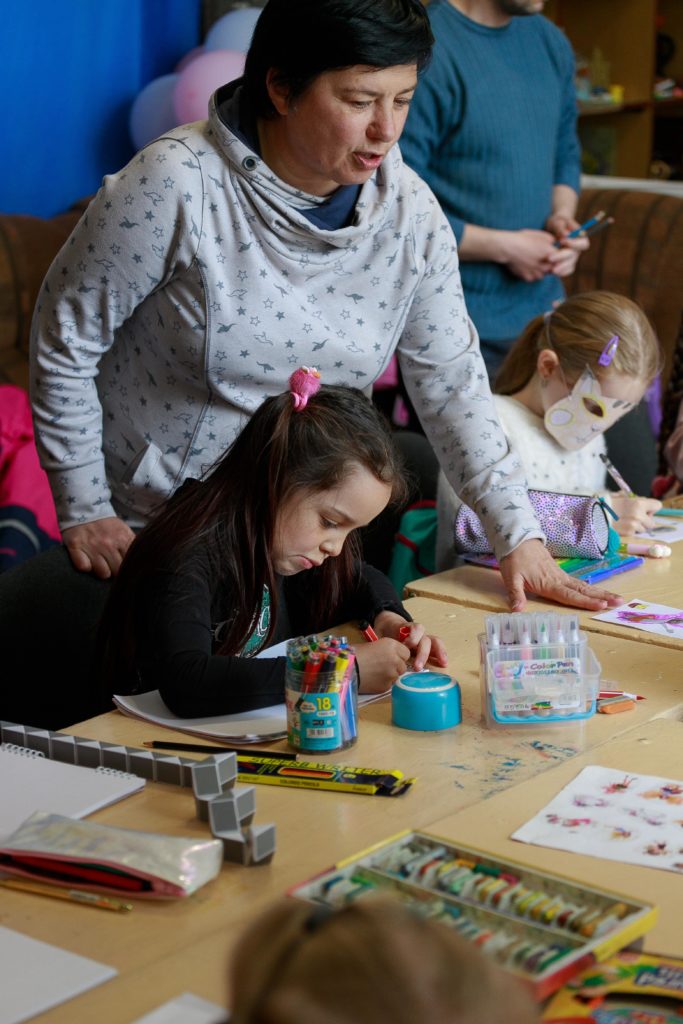 Our series of courses called "30 Steps towards the New Ukrainian School: Educating a Citizen" reached almost 100 000 participants, with over
30 000 completion certificates issued. A new course, "School Life Online", was released in May 2022, amassing nearly 15 000 participants by the end of November.
Trainers network perservered
Our blended learning courses, aimed at both school and preschool teachers, omitted the face- to-face element this year for reasons of war. But 30 of our trainers continued to facilitate meetings, some working close to the frontline. Nearly 2 000 people took part, with 812 attaining certifications. Frequent loss of electricity was no obstacle: people continued to find ways to join our meetings.
A teacher holding a lesson restores normalcy to children's lives.

Marta Melnykevych-Chorna, EWC advisor
EWC offered psychological support to teachers To support the teachers on every possible level, EWC designed a psychosocial support block, with professional psychologists offering advice to help our participants through the hardship.
"It was important for us to equip teachers with techniques to stabilize themselves before meeting their students, who may also need support," explains EWC advisor Marta Melnykevych-Chorna.