EWC is happy to congratulate Schools for Democracy Alumni Vasyl Diakiv on winning the Global Teacher Prize Ukraine 2020. Starting at almost 3000 nominated candidates Vasyl was announced the winner in Kyiv October 3rd, a truly great achievement!

Diakiv, who teaches history, civic education and health at the Zalishchyky gymnasium in the Ternopil region, has participated in several EWC projects. Starting at the 5th Summer Academy "Democracy at School" in Poland in 2014, before participating in the first cycle of Schools for Democracy in 2017 he is an engaged advocate for the democratization of schools. We had a talk with the new winner who shared his thoughts on why he wanted to become a teacher at a young age and how to build a democratic community. We even got some advice for young teachers that are about to begin their own teaching journeys.
Can you tell us a little bit about why you decided to become a teacher?
When I was 10 years old, my sister was born and I, as a big brother, had to take an active part in her upbringing. It was when I mastered the basis for teaching and upbringing, it was when I understood her desires and when I learned to motivate both myself and my sister to explore the world. It was difficult but fascinating indeed. When I turned 15, I applied to pedagogical college. But if you ask me if it was a conscious choice, I would say no. It was more an intuitive, subconscious choice.
What do you see as the most important result from your participation at the Summer Academy "Democracy at School", organized by the EWC in 2014 in Poland?
The training organized by the EWC at the Centre for Education Development and the National Teacher Training Institution in Poland, with its professional organization and efficiency always evokes the best memories. Learning how to determine priorities for building a democratic school culture and developing mechanisms for its implementation– the experience our team gained at the Summer Academy was invaluable.
Based on our participation we were able to develop closer ties with the local community and improve effective communication with parents related to the democratization of the school environment. We are still in touch with partners we met, sharing good practices and discussing ways to overcome challenges. We continue to promote democratic processes in the educational environment in order to form an active civil society.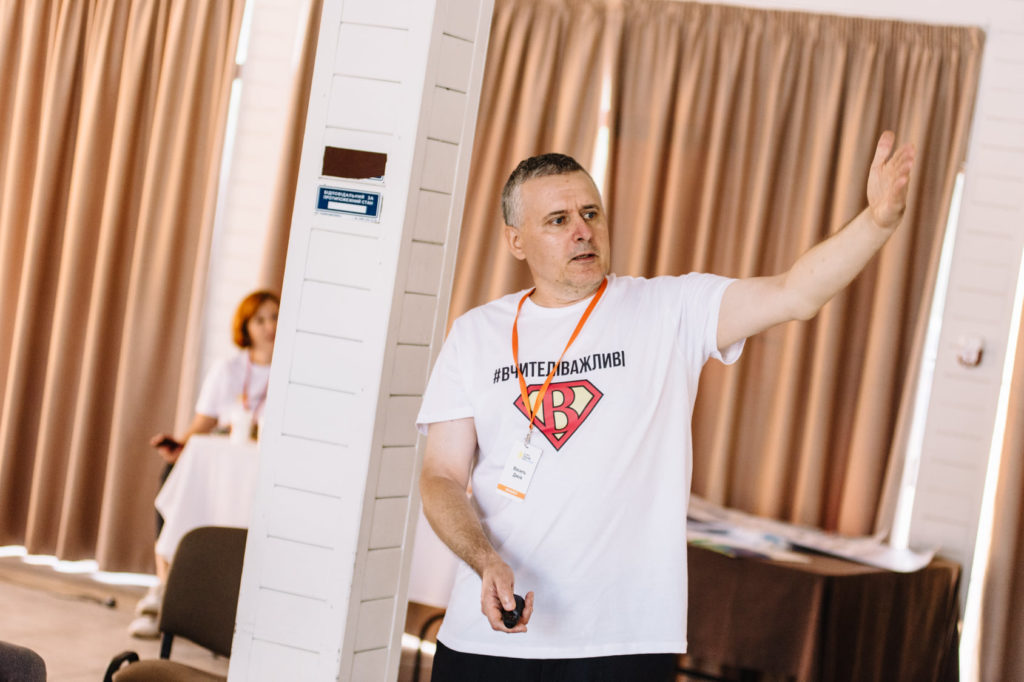 How did your participation in the Schools for Democracy affect your views on democratization of schools?
First of all, I realized that democratization is a long-lasting process. Democratic principles in the community can only be implemented by the constant work of a devoted team, united not only by a common goal but also by shared values.
I learned that effective communication with all stakeholders is the key to finding solutions and establishing common school rules for all.
Taking responsibility for your choices is one of the hallmarks of democracy. It also helps to move society forward, upholding human rights along the way. So, the establishment of an open educational environment beyond the school teaches children the main principles of adult life and of taking responsibility.
What are your best tips for young teachers joining the profession right now?
First, define your own values ​​and adhere to them. It will help you to stay honest with yourself, you will be trusted and challenges will be turned into opportunities. Do not be afraid of difficulties, dare to get out of your comfort zone. Only then you will get an incentive for further success.
Second, do not be afraid to change something in your life, because the new things add strength and encourage success.
Lastly, love people, because success is measured not only by money and fame, but also by soul and heart. Keep working on yourself and become happy.