The European Wergeland Centre invites you to join us for the seminar Education in Putin's Russia.
24 November 9.00– 1300, at Litteraturhuset, Oslo, Norway.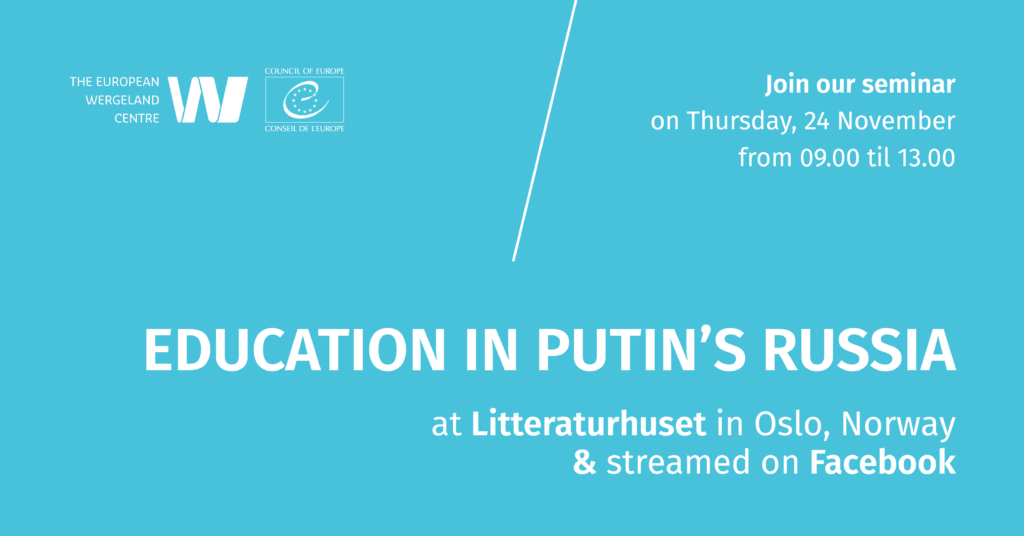 Since September 2022, children in Russia's public schools are sitting through weekly classes featuring war movies. Teaching traditional patriotic values are the core of the curricula both at schools and universities. All part of the government's plan to spread a militarized and anti-Western version of patriotism to create unwavering support from Russian society and silence any critical voices.
So how did we get here?
The European Wergeland Centre invites you to join us and Norwegian and Russian experts to discuss: 
How education is used by the Kremlin regime to undermine democratic values, indoctrinate, and militarize society?
What it's like to teach and study in an authoritarian state, where critical voices become "traitors"?
What can the democratic diaspora do to defend democratic values through education?
This event will be held in English with simultaneous translation to Russian.
EDUCATION IN PUTIN'S RUSSIA
PRELIMINARY PROGRAMME
Follow this link for facebookstreaming
8.30 – 9.00 Registration and coffee
9.00 – 9.15 Welcome word,
9.15 – 10.30 Session 1: Education as a tool to sustain an authoritarian regime
Latest developments in the education system of the Russian Federation, Valentina Papeikienė, Senior Advisor, EWC
Panel discussion:
Anders Granås Kjøstvedt, Assoc. Prof., Faculty of Education and International Studies, Oslo Met University, Norway
Britt Marie Hovland, Assoc. Prof., VID University, Norway
Denis Grekov (Poland), Philosopher and Political scientist, former lecturer at The Russian Presidential Academy of National Economy and Public Administration,
Yurij Lapshin (Serbia), International School Le Sallay Academy, until April 2022 educator at a Moscow School
Moderators: Ana Perona Fjeldstad Executive Director, EWC; Larisa Leganger Bronder, Advisor, EWC
10.30 – 10.45 Coffee break
10.45 – 12.00 Session 2: Fostering democracy through education: the role and potential of democratic diaspora
Diasporas as agents of democracy: Pitfalls and prospects,
Dr Erlend Paasche, Senior researcher, Institute for Social Research, Norway
Panel discussion:
Evgeniya Khoroltseva, Trainer in human rights, Human Rights Academy/Menneskerettighetsakademiet, Board member of "SmåRådina: for democracy in Russia", democratic diaspora, Norway
Inna Sangadzhieva, Departemental Director for Europe and Central Asia, Norwegian Helsinki Committee
Maria Ulazovskaya, Novaya Gazeta Europe, Latvia
Selma Bratberg, Vice-President, Norwegian Students' and Academics' International Assistance Fund (SAIH), Norway
Moderator: Valentina Papeikiene, Senior Advisor, EWC
12.00 – 13.00 Lunch and mingling