Τhis school year, EWC's Schools For All in Greece invited new schools and existing school members of its network to form 4 hubs (2 in Athens and 2 in Thessaloniki) for collaboration.
Aiming at sustainable changes for the future, the 25 schools are encouraged to mentor each other and work together using the whole-school approach. This year, members from the school management, teachers, representatives from the community and students participate in the working groups and in the trainings, which is an additional benefit regarding inclusion and the democratic values exercised.
Pairs of regional trainers completed 6-hour school workshops in all schools in January, setting in motion the planning and implementation of the selected activity from the handbook "31 Basic Activities". Then, in close collaboration, the schools have been working on a joint action plan for their common final activity or event.
What are they up to? A sneak peek in 2 of the hubs:
The hub of A' Athens region is planning to create an identity Beehive named ''Bee hub-y''. The concept reflects the idea that, just as the hive is reproduced by equal parts – the hexagonal hives – all contribute to a harmonious balance in the bustling world of bees, so too cultural diversity reflects the reproduction, interaction and equal emergence of all diversities as a challenge for a harmonious coexistence.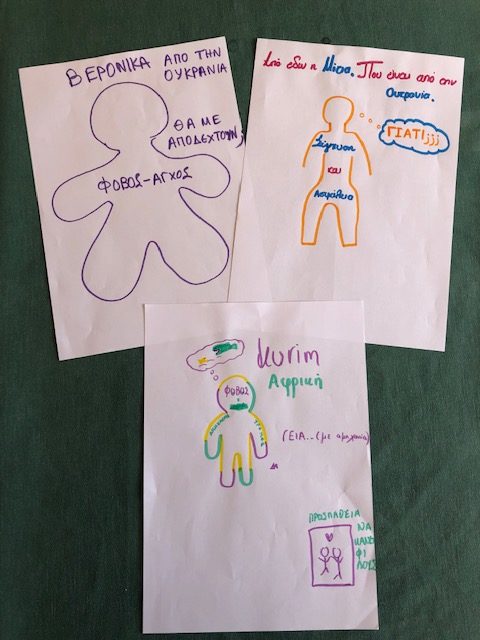 Each school will create their own hives where students will fill in the phrase ''Part of my identity is''. The content will be translated in all necessary languages so that all participants understand what is expressed. The different hives will construct a colorful installation at the final event of the hub.
''Τhe participants of the hub of B' Thessaloniki region are very excited and have been working with a high sense of responsibility'' comments expert trainer of the hub, Iro Potamouri:
Will use videos, dances and performances
''The students have taken up a very active role in the project and this is a very positive aspect. The schools have translated their schools' signs in the respective languages of their communities and are now working on their joint activity.
Each school will first present internally its final activity and all the 'pieces of the puzzle' will come together in a joint event in May 2023. The schools are working on a multimodal event under the theme 'What Love is' using different art media. Videos, dances, presentations and performances will showcase their take on the theme, with the active contribution of the school and local communities.' she explains.