Nine new University courses focusing on inclusive and democratic learning environments were successfully implemented and tested within the project in the Western Balkans last year.
In total 184 students undertook these one-semester courses (on BA/MA level). A second group of universities are currently finalizing their courses to be tested in the spring semester.
"Evaluations show that we can already now see evidence that the courses reflect a change teaching practice moving away from the more traditional to a more active learning approach including inclusion of students and new means of engaging students actively. These are the exact issues and methods encouraged within the framework of the project", EWC project manager Jennie Holck-Clausen says.
The University of Nis, as the first university in the regional network, has received an official accreditation for their MA-course. "Skills of Democratic Communication in Teaching" and rewarded 4 ECTS points by the Regulation Committee of the Republic of Serbia, which shows how important and relevant this work is.
With teaching practice as a major focus of the project, the establishment of a network of practice schools and future mentors was an important initiative. 17 schools and 25 mentors have so far been recruited to the network. The mentors have been trained to support practice-oriented teaching promoting citizenship, democracy and human rights, when receiving teacher students carrying out teaching practice. With the Covid-19 situation ongoing it became necessary to be innovative when preparing the students. As a result, all mentors in the school network were introduced to innovative online solutions as alternative ways of mentoring.
UNIVERSITY COURSES TESTED IN 2020:
University of Durres:
Education for Democracy and Human Rights
University of Banja Luka:
Education for Democracy
University of Belgrade:
Civic Education in Primary grades
University of Nis:
Skills of Democratic Communication in Teaching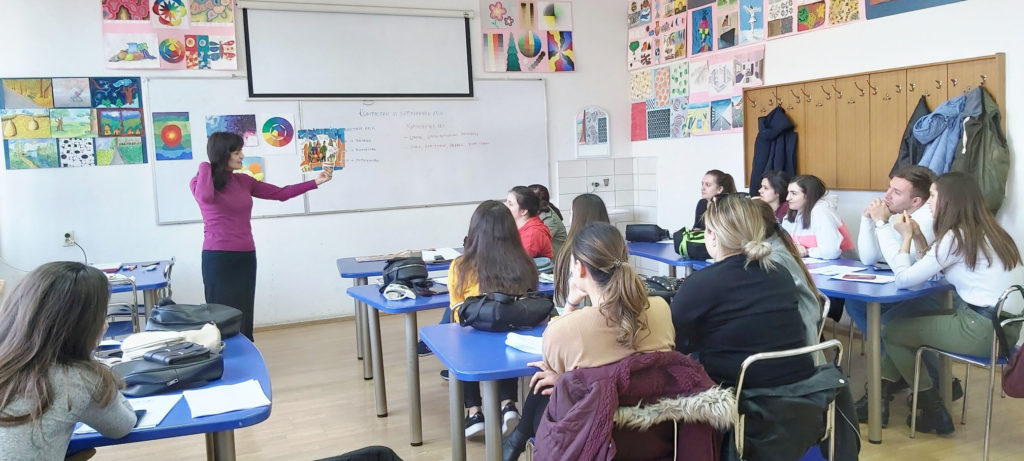 University of Skopje (Pedagogy):
Culture of Democracy through visual art education
The Culture of speech and its Didactics
Democracy through Didactics of Teaching Mathematics
University of Skopje (Natural Sciences and Mathematics):
Culture of Democracy through the Didactics of Chemistry
Didactic of Teaching Mathematics.
Children's Rights & the Right to Education