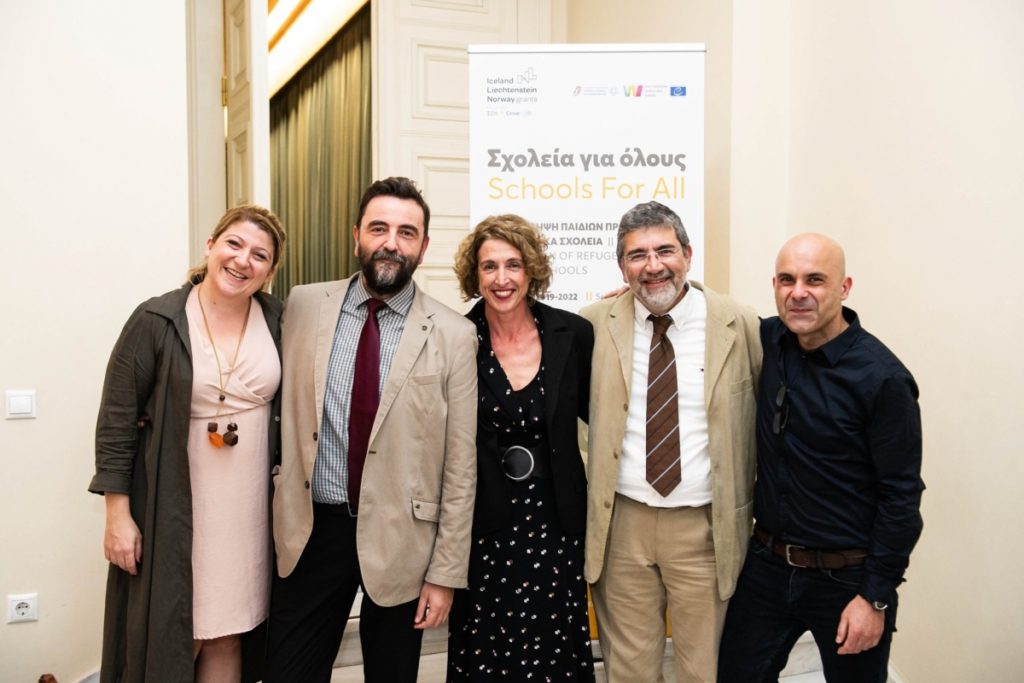 "Schools for All – Integration of Refugee Children in Greek Schools" officially launched in Athens on October 31st, marking the start of 3 years of training and mentoring for up to 150 secondary schools in Greece with reception classes for refugee children.
The opening took place at the main building of the University of Athens, and brought together distinguished official guests, representatives of international and national organizations and stakeholders who are active in the field of social integration of refugees into Greek society.
As representative of the project partner the Hellenic Ministry of Education and Religious Affairs, Ms. Anastasia Gkika, General Secretary of Primary and Secondary Education, highlighted the importance of equal access to quality education through the inclusion of all children. The Norwegian Ambassador to Greece & Cyprus Frode Overland Andersen announced the official launch of the project on behalf of the Donor Countries – Norway, Iceland & Liechtenstein – of the EEA Grants. «To assist Greek Teachers in helping to integrate refugee children in Schools is a practical and concrete way of fighting social exclusion», he noted.
The three-year national capacity building project aims to support schools with reception classes, by fostering a safe and inclusive learning environment where equal opportunities for education are provided to all. In this framework, a pool of experienced trainers will provide support and mentoring to school heads, teachers and parents of pupils at these particular schools.
The trainers met for their first training in parallel with the official opening. Through a thorough selection process, in which 780 applications were assessed, 28 trainers were selected and took part in the training-of-trainers in Athens on 30/10 – 02/11. Conducted by the project's core team of trainers, the training emphasized practical approaches to real case scenarios from schools with reception classes for refugees while also providing the pedagogical framework based on the Council of Europe's Reference Framework for Competence for Democratic Culture. In particular, the whole school approach to education for democratic citizenship, human rights and intercultural understanding is a key feature of the training module.
For the school year 2019 – 2020 28 secondary schools will take part in the project. School teams from each school will go through trainings at regional academies where they will draw up action plans for their schools. The implementation of these action plans will involve the whole school community and the process will be closely mentored by trainers.
The national project 'Schools for all: Integration of Refugee Children in Greek Schools'is funded by the EEA Grants which is operated by ΣΟΛ Crowe and HumanRights360.It is conducted under the auspices of the Hellenic Ministry of Education and Religious Affairs, with the support of the Greek Institute of Educational Policy