Join us for the launch of our online course on Digital Citizenship Education, Wednesday, May 11th, 14:00 – 15:15 (CET).
Follow this link to join the launch https://primetime.bluejeans.com/a2m/live-event/zzvaygvc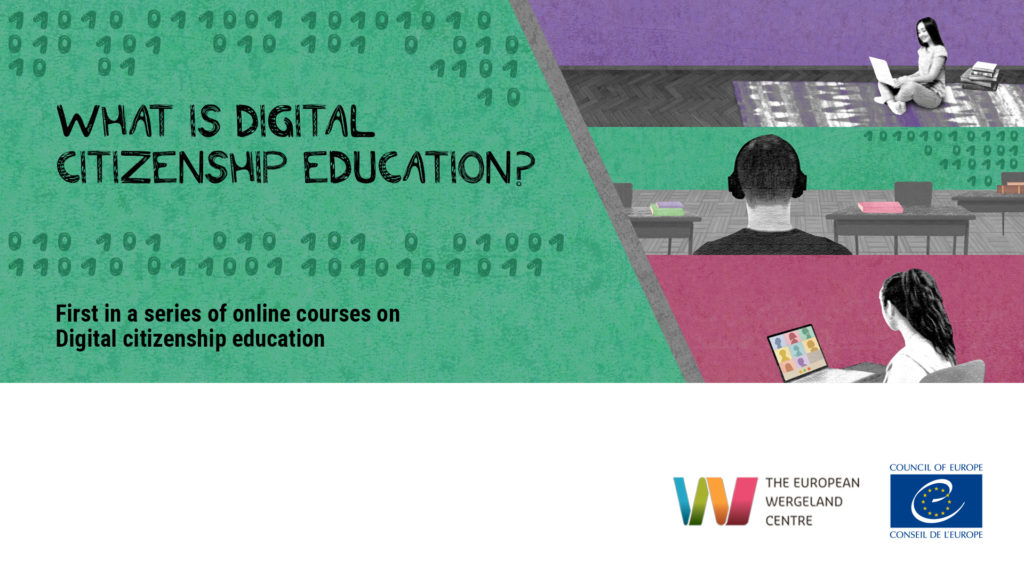 The European Wergeland Centre and the Council of Europe are pleased to invite you to an online course designed for school teams who want to understand the notion of digital citizenship and benefit from applying it.
What is it? First in a series of several upcoming online trainings developed through our strategic partnership, this is a 15-hour module designed to be taken as a group. It focuses on the purposes of digital citizenship education, and how you can integrate it into everyday practice with your students.
What does it look like? The course consists of short videos, individual tasks, and group work. By working together on real-life examples, you will learn how to plan digital citizenship learning activities that will engage and empower students to become active citizens in a world dominated by digital technology.
Who is it for? The course is for teams of teachers and others interested in helping young people make sense of their rights and responsibilities as digital citizens. To participate in the course, contact your fellow teachers and set up your team. You can work together either face-to-face or online. A conference tool is integrated into the platform to help you meet online.
What will you learn? At the end of the course, you will:
understand why it is important to talk about digital citizenship with your students;
feel confident in your ability to deal with digital citizenship issues in your daily practice;
have planned a customised digital citizenship learning activity ready to implement with learners.
You will also receive an official personal certificate of completion from the Council of Europe and the European Wergeland Center, generated several days after the completion of the course.
Why teamwork? Group work is a powerful tool for getting better results in a professional training. Sharing of experiences and working together can lead to richer and more long-lasting outcomes. This does not mean that everyone must be at their computers simultaneously; it just means that you will need to accomplish certain tasks together as a group – online or face-to-face, you decide.
Our authors and trainers:
Andriy Donets is an instructional designer, teacher educator, and youth trainer in education for democratic citizenship and human rights.
Ted Huddlestonis an international consultant in citizenship and civic education, and an associate of Young Citizens (UK).
Oksana Pasichnyk is an ICT teacher, instructional designer, and expert in Digital Citizenship Education.
Olena Styslavska is a teacher educator and international consultant in democratic citizenship, human rights, and intercultural education.
Angelos Vallianatos is trained in intercultural education in Greece and abroad, as well as in radio and television production in England.