At the University of Skopje in North Macedonia, teacher students could participate in the new course "Democracy through visual art Education" in the spring of 2020. We had a talk with the professor who developed the module and one of the students that participated.
"The meaning of democracy is something that should be taught from the very first day of school, so it becomes the normal way of being, rather than a descriptive term of an ideal society", says teacher student Zhaklina Georgievska, participant in a new course developed through the EWC project Preparing Future Teachers in the Western Balkans.
The 3-year regional project provides support for higher education institutions and universities in Albania, Bosnia and Herzegovina, Kosovo*, Montenegro, North Macedonia and Serbia; modernizing their teacher education modules with an aim to improve the quality of teacher education for future teachers in the region.
During the spring semester of 2020, 21 teacher students followed the pilot course "Culture of Democracy through Visual Art Education", developed in the framework of the project. Professor Maya Raunik Kirkov at the University of Skopje in North Macedonia worked closely with project partner Rolf Gollob from the Zürich University of Teacher Training when creating the module.
"It is intended for primary school-teachers as a symbiosis of both contents – Didactics of Visual Art Education with Democracy. Its aim is to provide strategies and an environment where students can gain knowledge of the necessary subject matter, but also methodical and decision-making competencies and skills for implementation of democratic thinking and behavior from theoretical knowledge to real life", explains Professor Kirkov.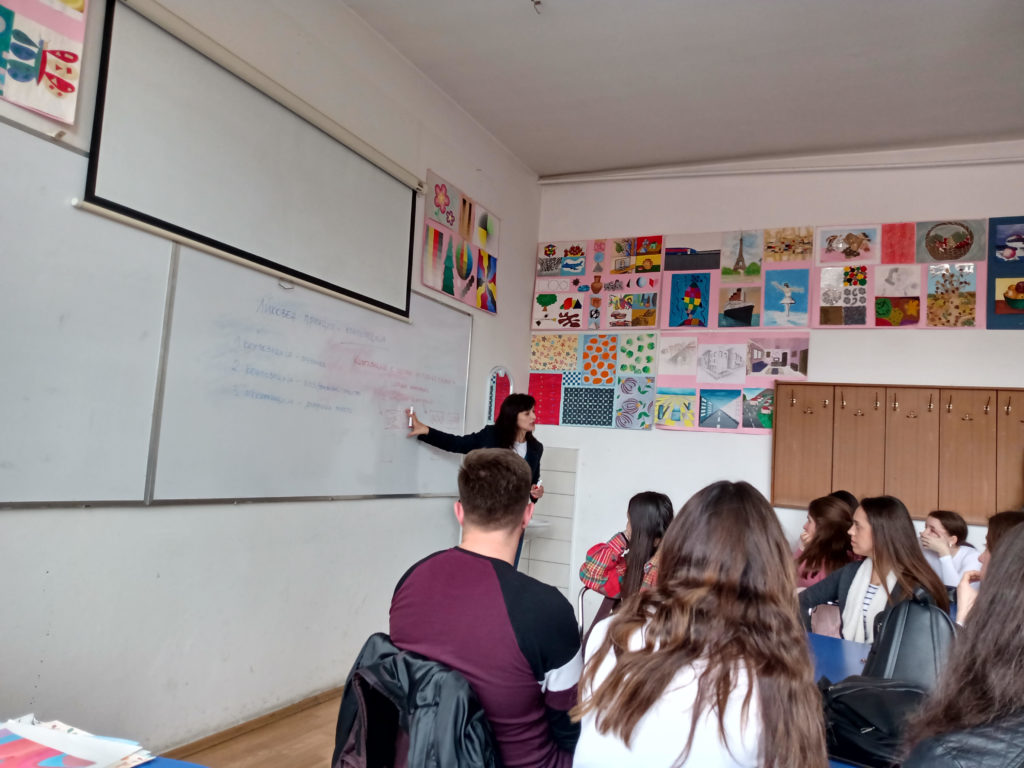 "Creating the module, we have selected specific competences (from the Council of Europe Reference Framework for Competences for Democratic Culture) that can be identified by descriptors. Each session connects didactics of Visual Art with adequate key competence of democracy education such as rights and freedom, identity, responsibility and so on. Visual art in education emphasizes imagination, critical thinking, and problem solving. It provides a space where creativity, culture and innovation can be nurtured and developed. The transfer of that knowledge and abilities in other life aspects supports development of educated, free and in that way democratic citizens", she continues.
Due to the Covid-19 pandemic 7 out of 11 sessions were held online. "We could not have anticipated a global pandemic that would stop us from conducting our lectures in the classrooms […], and speaking on behalf of Prof. Gollob and myself, I have to say that it was challenging to provide an immediate response without compromising the quality of teaching and learning. These are maybe the most important lessons from the pandemic; are we able to adapt and react to new needs, and are we professional enough to transfer our knowledge and skills into new situations? To this end we have already implemented some of the competences of the Council of Europe Reference Framework", Ms. Kirkov reflects.
I was fascinated by the depth of curiosity shown by the students and their persistence to seek new solutions, not only in the field of visual expression, but in the integration of democracy in their teaching preparations

Professor Maya Raunik Kirkov
Teacher student Zhaklina Georgievska who studies to become a primary teacher, thinks the course connects important links between visual art education and democracy. "These subjects have an undeniable connection, but yet is has not been represented in the curriculum before", she says. "The course is the unique combination of two contents, and yet it has a different, easier and less complicated approach to teaching and learning. It encourages teachers to be vocal about things that matters, and I believe the approaches presented in the module gives children a functional perspective on democracy which they will use in the upcoming years of life", she explains. "I especially liked the practical tools and materials used to introduce different details of democracy into visual art. My favorite was the tool to use drawing as a way to understand the subject", Georgievska adds.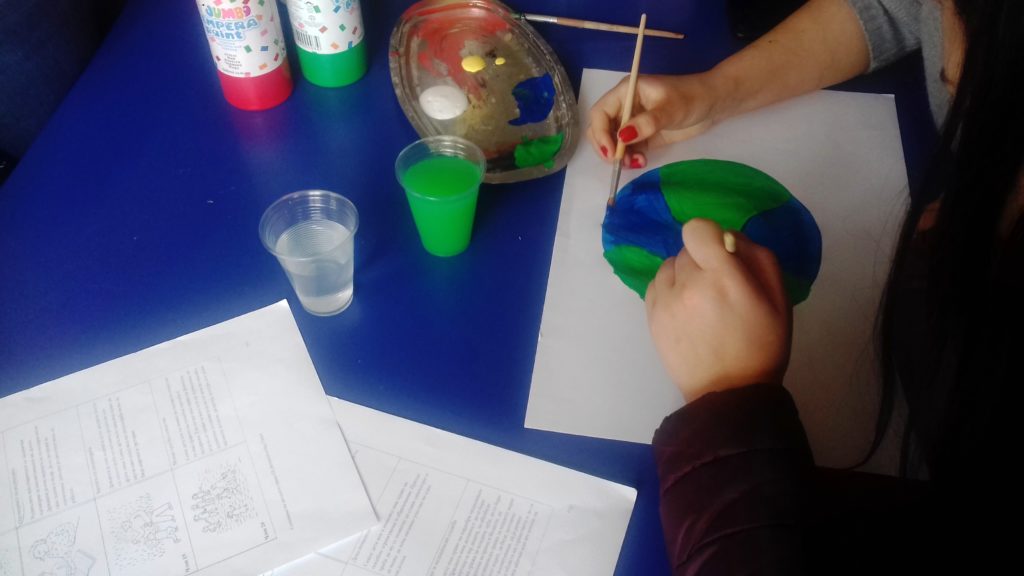 As part of the regions efforts to move to a competence-based approach, reflecting values and principles such as democracy, participation and inclusiveness, the project aims to support these educational changes in several ways. "There are two major challenges related to integration of approaches and contents of democracy education for future teachers in Northern Macedonia", explains Proffesor Kirkov. "First, quality integration of content for democratic citizenship in university and school subjects to build and support the culture of democracy. And second, a need for competent mentors who will provide support for our teacher students once they have the possibility to train their teaching skills in the classrooms of the cooperating primary schools", she continues. "The Preparing Future Teachers project fosters educational changes by providing content, methods and strategies for implementation of EDC/HRE and the RFCDC, as well as enabling large numbers of teachers across the region to become familiar with the project through seminars and workshops", she explains.
Teacher student Zhaklina Georgievska is grateful that she got to participate in the new course. "It made me realize how important, but also forgotten, democracy is in our school benches. I already have many ideas on how to effectively implement it in my own future teaching".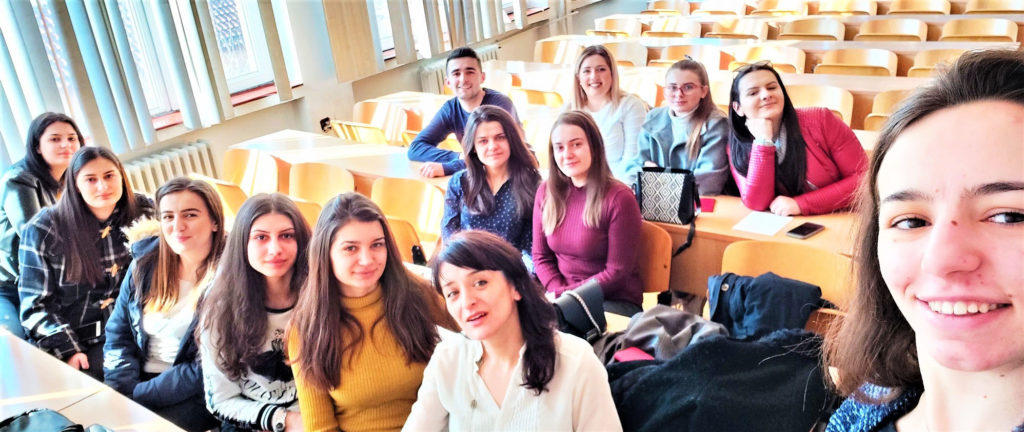 The next course of Democracy through Visual Art Education will be implemented in the spring semester of 2021, introducing a new class of students to the module. "I am even more excited for future implementation, and I already have a few new ideas for student engagement", Professor Kirkov says. "Also, as the Vice-Dean of science, I have presented this project to my colleagues and received positive feedback. It will be great if they have a chance to participate in the seminars and develop their own modules in the future", she concludes.