Learning and democratic efficacy are strengthened when students cooperate across schools.
Meeting students from other schools is revealed to be of great value for many students participating in three-day trainings at Utøya. In these trainings, students and teachers come together from all over Norway to learn about the terror attacks of 22 July, as well as about democratic citizenship.
A student from Høyland secondary school described the importance of being included in the group and having the opportunity to be himself. He pointed out that ice breakers and cooperative learning activities contributed to this positive experience:
I have made several new friends. It was important to me, because I don't really have that many friends at school who are like me and have similar interests."

Student from Høyland Secondary schoool
Such experiences are especially important for students who miss friendships with those who share their preferences and interests. In addition, several students noted that the training was a long-awaited opportunity to meet others with a similar desire to learn, such as this student from Vikeså school:
"It made a difference that there were other engaged people, and I was not the only one interested in learning. Here [at school] you may not be able to share your opinion because of cliques and such, but there it was completely safe to say what you wanted."

Student from Vikså school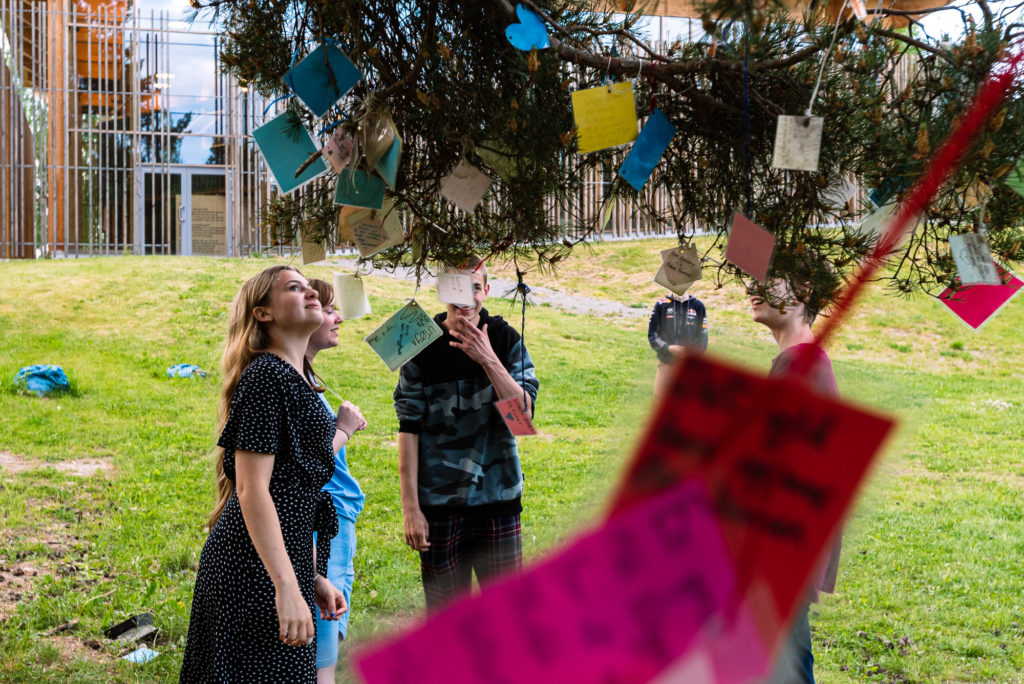 These impressions are backed by recent research findings, which shows that many young people find it challenging to express their opinions in the classroom. They are afraid of losing friends or altering the way others view them.3 What one thinks is closely connected to who one is, as well as to one's role in the class. During the trainings at Utøya, on the other hand, students meet and cooperate with peers from other schools, and many feel that they can participate freely.
Several students also describe being inspired to democratic commitment by the peers they got to know, and feeling more open to the perspectives of others:
"Being at Utøya with so many other committed young people made me want to fight for the causes close to my heart as well.

Change story from student who participated in training in 202
I see the world differently, almost like a third eye. Now, I see an issue from more than one perspective, and I listen closely to the opinions of others. I also pay more attention to hate speech.

Interview with student who participated in a training at Utøya in 2022
From research, we know that the experience of mastering tasks, as well as observing others mastering a task, are among the factors that can contribute to strengthening young people's efficacy. Expressing one's opinion, listening to the perspectives of others, and managing controversy are important competences for a democratic culture. Therefore, it is crucial that students who have participated in the trainings at Utøya report feeling safe about expressing their opinions and growing more open to listening to others. This experience can contribute to strengthening their democratic efficacy – the belief that they can participate in democracy and create change.
Although Norwegian students tend to have a strong knowledge of democracy in general, they often lack confidence in their ability to become active participants in democratic processes, compared to young people in similar countries. At the same time, we know that if one believes that one can play a role as an active citizen at the age of 15, this increases the possibility of actually doing so later in life. Thus, strengthening young people's democratic efficiency is a crucial component of educating democratic citizens.
These experiences from Norway can offer important insights into how education projects can engage and enable citizens to promote democratic change. Such lessons can be applied to other countries as well.