Every August, EWC teams up with other Norwegian peace and human rights centers during the large annual political gathering in Arendal, Norway. This summer was no exception.
Our busy week started with a joint event in the Human Rights Tent. Together with the directors of the other Peace and Human Rights Centres in Norway, we discussed the ins and outs of our shared work on strengthening and defending democracy. In the next few days, we focused on how the war in Ukraine has affected the country's schools – and what Norway can do to help.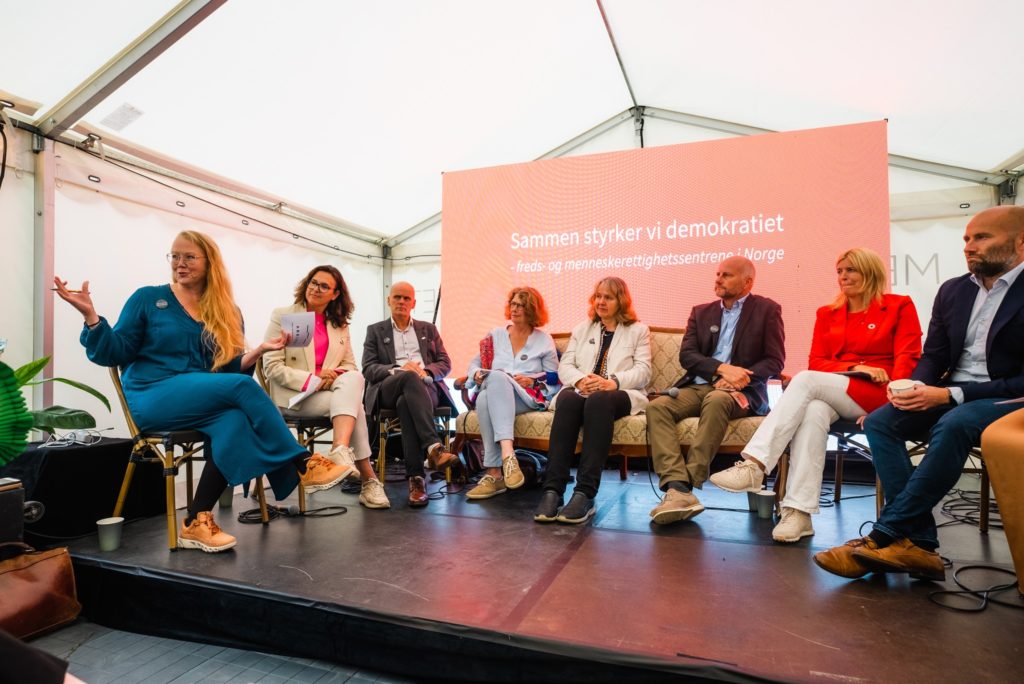 How Norway is affected
In 2022, many Ukrainian refugees arrived in Norway, joining schools and local communities across the nation. There was a great societal effort to welcome and support them. In an event co-organized with the Nansen Centre for Peace and Dialogue and Arkivet we discussed how war affects local communities, particularly schools. How do we facilitate safe conversations about the difficult issues of war and peace, guilt and responsibility, friend and enemy, while armed conflict unfolds? How do we talk in the presence of the students who are directly affected by it?
Rebuilding Ukraine
Russia's war of aggression against Ukraine has left villages and towns in ruins. The rebuilding of the country will require enormous resources. At the same time, it will provide the opportunity to strengthen democracy and local participation by creating communities that are more inclusive, more people-centered, and greener. Throughout this work, it should be the local population, not external actors, that plays the central role in all urban development.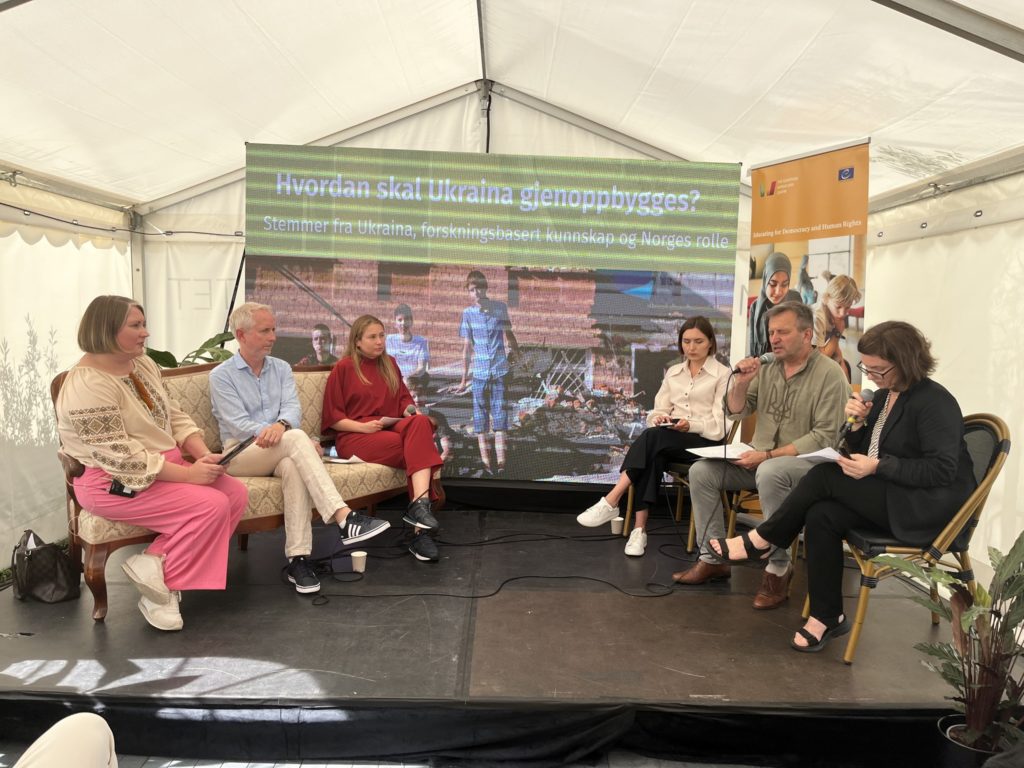 It is important to remember that municipalities across Ukraine enjoyed solid local practices of participation and solidarity long before the war. Existing local democracy was central to Ukraine's fierce resistance. In this panel, we drew on the experiences of rebuilding local communities in present-day Ukraine and in other parts of the world.
Recovery starts the day after something has been destroyed. People need to live somewhere. Children need to have a school.

Ivan Verbytskyi
How Norway can step in
Norway has recently adopted a comprehensive 5-year support program for Ukraine, known as the Nansen program. It includes military support, emergency aid, contributions to maintaining civil infrastructure and critical societal functions, as well as aid for rebuilding the Ukrainian society as a whole.
How do Ukrainians themselves think their country should be rebuilt? How is their situation different from other nations in crisis? What will it take for the "do no harm" principle to be upheld here? Last but not least, how can we avoid contributing to increased corruption? Norwegian politicians and authorities joined Ukrainian figures from the government, civil society and academia to address these questions. Our esteemed guests included Eivind Vad Petersson, Norway's State Secretary; Bård Vegar Solhjell, Director of NORAD; Anna Novosad, co-founder of SavED and former Minister of Education and Science of Ukraine; and others.
Like every summer, we left Arendal full of impressions and new ideas to ponder and to implement.