The European Wergeland Centre Secretariat has a new organizational structure in place.
"The centre had a horizontal structure which suited us well for a long time, but now both staff and leadership agreed there was time to make changes, reflecting the organization we are today»; Executive Director Ana Perona-Fjeldstad explained.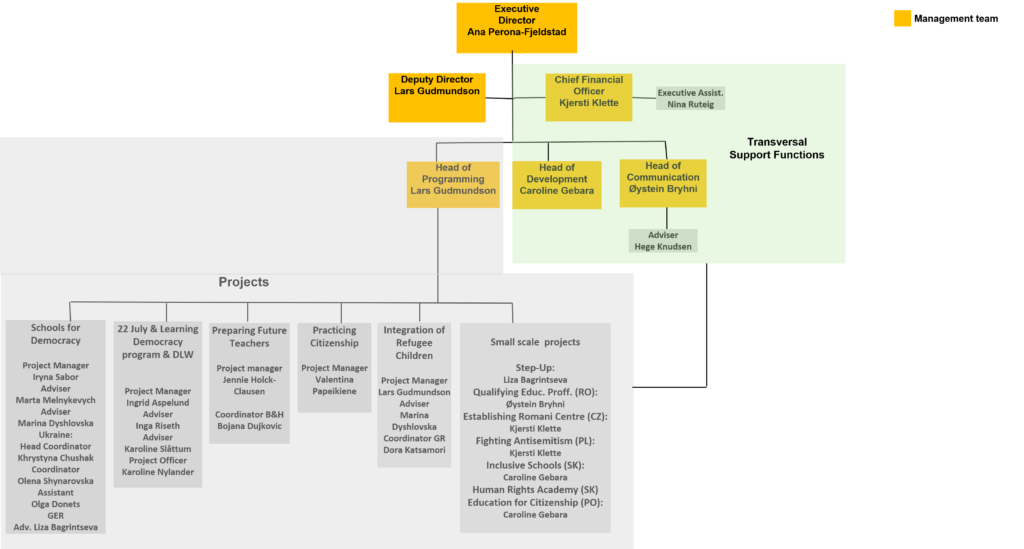 EWC has experienced considerable growth both in size and scope. Back in 2009 there were only two employees. Now the centre has a staff of 22 employees combining staff in Oslo and field staff. The budget has increased from 6,5 million in 2009 to one of NOK 35,5 million in 2020. Last year EWC projects and initiatives reached 77.000 educators, students and parents in 28 European countries.
The new organizational structure gives increased responsibility to those in charge of projects, ranging from content and finances to the handling of human resources. At the same time, a newly established management team will work to assure that each project learns from each other and that synergies between projects are assured. In a "learning organisation" transversal supporting functions are key to ensure that expertise, lessons learnt, and experiences are shared across individual initiatives, preventing "silo" situations. 
"The new structure was just in place when the Corona pandemic hit Europe. Everyone in the staff was better prepared to take up their responsibilities and function effectively as a team member, and this help EWC to turn around and adapt relatively fast to the new situation», Perona-Fjeldstad said.